PAINTING BY CHIMPANZEE CONGO
(WIKIPEDIA FREE ENCYCLOPEDIA)
This is a faithful photographic reproduction of a two-dimensional, public domain work of art. The work of art itself is in the public domain for the following reason:
Public domain
This file is in the public domain, because as the work of a non-human animal, it has no human author in whom copyright is vested.
The official position taken by the Wikimedia Foundation is that "faithful reproductions of two-dimensional public domain works of art are public domain".
This photographic reproduction is therefore also considered to be in the public domain. In other jurisdictions, re-use of this content may be restricted; see Reuse of PD-Art photographs for details.
(WIKIPEDIA FREE ENCYCLOPEDIA)
PAINTING BY CONCO
This painting was produced by the chimpanzee "Congo" and is therefore not copyrighted. The photo of the painting is not copyrightable per the Bridgeman v. Corel ruling.
The creative work of animals creates no copyright.View more
Uploaded by Ksd5
Uploaded: July 24, 2013
PD-Art (PD-animal), Paintings by Congo
More details about this file on Wikimedia Commons
THIS IS 'CONGO', CHIMPANZEE, THAT FIRST START DRAWING
AT THE AGE OF TWO. THEN ZOOLOGIST, AND SURREALIST PAINTER DESMOND MORRIS
GAVE CONGO PAINTS AND BRUSHES.
CONGO ARTISTIC HERITAGE CONSISTS OF
400 DRAWINGS AND PAINTINGS.
HE WAS BORN IN 1954 , LIVED IN LONDON, ENGLAND AND DIED FROM TUBERCULOSIS IN
1964.
THIS YEAR DOES MARK
50 YEARS, SINCE CONGO
PASSED AWAY.
HIS PAINTINGS BROUGHT MIX REVIEWS.
BUT CONGO
CREATIVITY RESULTED IN TAKING UNDER CONSIDERATION
THAT ANIMALS
CAN HAVE ARTISTIC FLARE.
HE PAINTED THE PICTURE
ABOVE.
CONGO
KNEW, HOW TO DRAW CIRCLE, WAS GOOD WITH COLORS,
LIKED FAN SHAPED SYMMETRIC
COMPOSITION.
HIS FINAL PIECES SHINED WITH BRILLIANT, PURE COLORS. HE WAS CALLED LYRICAL ABSTRACT IMPRESSIONIST. ART CRITIC FOR SUNDAY TIMES IN LONDON, WALDEMAR JANUSZCZAK GAVE HIM POSITIVE REVIEWS.
HERBERT REED AND MORI WERE IMPRESSED BY HIS ABILITY.
HIS PICTURE,
THAT SPANISH PAINTER PABLO PICASSO,
RECEIVED AS GIFT, ALLEGEDLY PICASSO, FRAMED AND HUNG IN HIS STUDIO.
ANOTHER PAINTER OF THAT ERA, SALVADOR DALI SAID IN
REFERENCE TO CONGO THAT
'THE HAND OF CHIMPANZEE IS QUASI HUMAN, THE HAND OF
JACKSON
POLLOCK IS TOTALLY ANIMAL'
IN ADDITION TO THAT, ON 6/20/2005 ON THE
AUCTION AT BONHAMS, AMERICAN COLLECTOR HOWARD HONG,
BOUGHT 3 CONGO'S PAINTING FOR OVER $26,000, WHEN AT THE SAME
TIME ANDY
WARHOL'S
PAINTING
OR RENOIR'S SCULPTURE DIDN'T
SELL AND HAD TO BE PULLED
OUT OF AUCTION.
CONGO PAINTINGS WERE SOLD FOR OVER
20 TIMES OF ITS ESTIMATED VALUE.
CONGO WAS CALLED
CEZANNE
OF THE APE WORLD.
ON OCTOBER 12, 2005
JOHN RUSSELL TAYLOR POINTED IN
THE TIME
,
THAT AT THE
1957, I C A EXHIBITION, CONGO WORK WAS PURCHASED
BY ROLAND PENROTE,
PRINCE PHILIP, HERBERT READ.
THERE IS THE PAGE IN
WIKIPEDIA (FREE ENCYCLOPEDIA)
THAT LIST
55 INDIVIDUALS CATEGORIZED BY NAME. CONGO NAME IS THERE. THAT
IS THE LIST OF CHIMPANZEE INDIVIDUALS THAT GAINED RECOGNITION.
HOWEVER, FROM THE OTHER LIST OF WIKIPEDIA -
THE LIST OF 11 INDIVIDUALS -
CHIMPANZEE THAT WAS DETERMINED
TO ATTAINED ALPHA MALE STATUS
-THE NAME OF CONGO IS MISSING.
I, FIND MYSELF PASSIONATELY BEING DRAWN TO PICTURES MADE BY
CONGO, AS WELL AS THE ONE MADE BY OTHER ANIMALS, ORANGUTAN
NONJA,
OR GORILLAS: SOPHIE ( ROTTERDAM), KOKO, ELEPHANT ARDILA
BETSY , FINGER PAINTING AMERICAN ARTIST FROM BALTIMORE ETC.
I AM SURE THAT PART OF IT IS
MY INNER CURIOSI
TY, ATTEMPT TO TRYING TO REACH AND 'FEEL' THE
ARTIST BEHIND. JUST, LIKE THE ANIMAL/ARTIST TRYING TO EXPRESS
ITS BEING THROUGH SUCH MEDIA, I WANT TO COME CLOSER.
ALL OF THE PAINTINGS ARE ABSTRACTS, NONE REACH PICTORIAL STAGE.
I AM READING AROUND, THAT THEY ARE JUST LIKE 3 YEARS OLD CHILD.
CHILDREN CAN HAVE WONDERFUL SENSE OF COLOR, BUT HERE I SEE
MORE. OVER CENTURIES, THERE IS A TREND TO KEEP ON MOVING
OUT FROM PHOTO LIKE, FAITHFUL DETAILED IMAGES IN PAINT TO
SOPHISTICATED SPLASHES OF PAINT, LINES AND INTRODUCING
VARIATE OF MEDIA IN SUCH A WAY THAT PICTURE GOING THROUGH
THE EYES ENTERS THE SOULS, AND THAT WHERE IT TAKES SIT, IN OUR
CORE BEING, WORKS ON OUR IMAGINATION AND FEELINGS,
SPEAKS THOUGH SUBLIME.
CONGO CAREER AS A PAINTER LASTED ONLY ABOUT 3 YEARS, BUT HAD A TREMENDOUS IMPACT ON 'OPENING DOORS TO THE POSSIBILITIES'.
NOT EVERY PICTURE IS, OF COURSE, A MASTERPIECE. BUT NUMBER
OF THEM ARE GOOD. AFTER SHORT ARTISTIC CAREER,
CONGO GAVE UP PAINTING AND CHOOSE TO STAY IN HIS CAGE
IN LONDON ZOO.
COMPOSITION BY CONGO
ON RIGHT - CONGO IN HIS HIGH 'BABY' CHAIR
ON LEFT - ONE OF THE OTHER PAINING OF HIS
MYSELF, I BELIEVE THAT ART IS A FORM OF EXPRESSION,
COMMUNICATION, IN THE PAST IT WAS OFTEN SUBSTITUTE
FOR PHOTOGRAPHS, DUPLICATING LIFE. BUT MORE
AND MORE WE SEE ART PRESENTING ABSTRACT THOUGHTS
AND IDEAS, TOUCHING OUR EMOTIONS DEEPLY.
IF I APPLY THAT SIMPLE 'DEFINITION' OF ART TO CONGO,
WE WOULD HAVE TO CALL HIM AN ARTIST.
BUT AS I LOOKED IN WEBSTER DICTIONARY UNDER
ART
- THE DEFINITION IS:
'
(art) n, skill; HUMAN skill as opposed to
nature....'
SINCE, I WILL NOT CHANGE THE WAY I FEEL ABOUT CONGO'S
WORK, AND HE IS NON - HUMAN, I HAVE A PROBLEM WITH
THAT DEFINITION. I BELIEVE, THAT THIS DEFINITION IS
NO LONGER VALID AND SHOULD BY EDITED.
CONGO LESS AND LESS BECOMES AN EXCEPTION, AS MORE
AND MORE OTHER ANIMALS ARE BEING DISCOVERED,
SPECIALLY APES,
THAT ENJOY THAT FORM OF SELF EXPRESSION.
DESMOND MORRIS WAS CURATOR OF LONDON ZOO, AT THE TIME
WHEN CONGO WAS STAYING THERE. HE, WAS THE ONE THAT FOR
THE VERY FIRST TIME GAVE CONGO PENCIL AND LATER BRUSH
AND PAINTS.
HE WAS THE ONE WHO ORGANIZED THE FIRST PAINTING
EXHIBITION OF CHIMPANZEE, INCLUDING CONGO IN INSTITUTE
OF CONTEMPORARY ARTS IN LONDON IN 1957. HIS BOOK FROM
1968
'THE NAKED APE' PERTAINING TO SOCIO
-BIOLOGY,
IS STILL ON
A BESTSELLER LIST.
DESMOND MORRIS BORN IN 1928, WAS PAINTING FOR 65 YEARS
ONWARD. HIS FIRST EXHIBITION WAS IN 1948, LAST ONE ONLY
ONE YEAR AGO.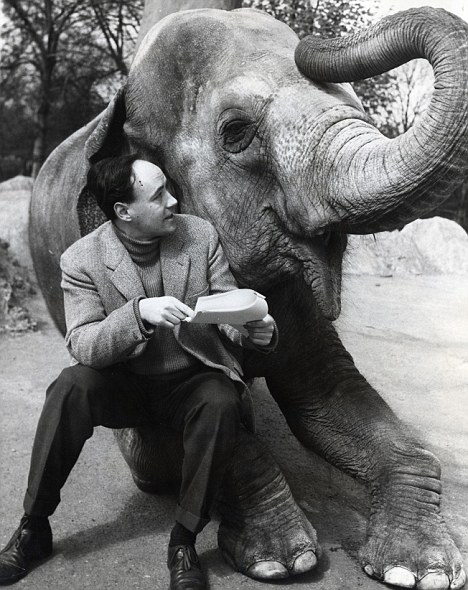 DESMOND MORRIS IN COMPANY OF
TWO FRIENDS:
'ELEPHANT AND THE BOOK"
DESMOND MORRIS WROTE OVER 79 SCIENTIFIC AND OTHER
PUBLICATIONS, WROTE AND PRODUCED SURREALISTIC
MOVIES i.e. IN 1950 'TIME FLOWER', 'THE BUTTERFLY AND THE
PIN'.
HE WROTE AND HOSTED TOTALLY 500 WEEKLY, GRANADA
TV'S PROGRAMS, WHERE CONGO WAS A GUEST.
DESMOND MORRIS WAS UNUSUALLY SUCCESSFUL IN ALL HIS,
CREATIVE ENDEAVORS. FOR NUMBER OD YEARS, HE WAS
SPENDING 3 MONTH IN A YEAR, EXPLORING OTHER COUNTRIES
AND STUDYING VARIOUS GROUPS OF PEOPLE.
OCCASIONALLY,
HIS WIFE WOULD ACCOMPANY HIM.
HE TOTALLY VISITED 95 COUNTRIES.
WHEN ASKED WHAT ACTIVITY HE ENJOYS THE MOST,
HE SIMPLE SAID: "WRITING BOOKS, PAINTING PICTURES
AND TRAVELLING".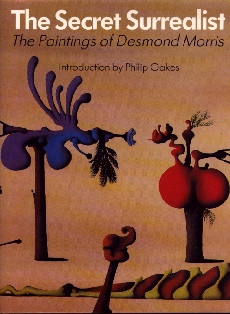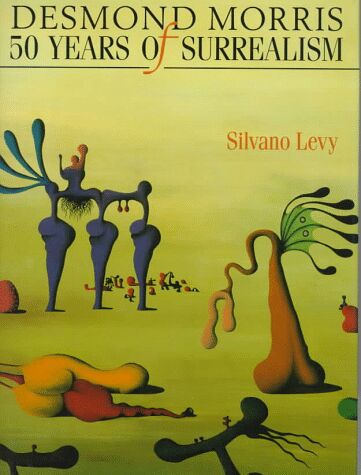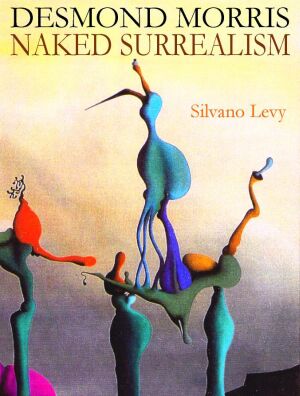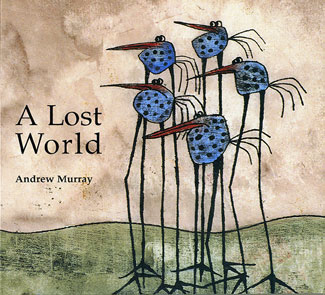 ABOVE, SOME OF THE DESMOND MORRIS BOOKS,
BELOW HIS PAINTING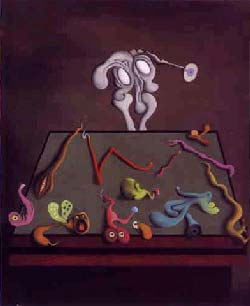 '
THE BLIND
WATCHMAKER'
1986
DESMOND
MORRIS
Search - Wikipedia, the free encyclopedi
DESMOND MORRIS/INFO/PUBLICATIONS/PHOTO/FREE - Search results - Wikipedia, the free encyclopedia
http://www.artistsezine.com/WhyChimp.htm
http://gurneyjourney.blogspot.com/2013/03/why-do-chimps-do-art.htmlhttp://www.earthintransition.org/?s=