MERRY
CHRISTMAS
AND
HAPPY
HOLIDAY
SEASON
THE BEST HOLIDAYS WISHES FOR
ALL CHARITABLE ORGANIZATIONS,
THAT MAKES LIFE ON EARTH
BETTER,
ASSIST IN ANY TYPE OF NEED.
FIGHT THE EVIL,
BRING SUN
WHERE THERE IS DARKNESS,
CREATE SOLUTIONS, WHERE THERE ARE NONE
FOR EVERYBODY WITH
EQUAL CARE,
PEOPLE AND ANIMALS.
THEY ARE MY HEROS.
LARRY PAGE
CEO & CO FOUNDER
OF GOOGLE
ALL THE BEST TO
CEO LARRY PAGE AND HIS FAMILY,
-WITH GRATITUDES FOR DONATING $15 MILLION
TO EBOLA CAUSE-
TO ALL HIS STAFF, ALL GOOGLERS,
ALL INTERNET USERS,
TO UNICEF, DOCTORS WITHOUT BORDERS,
SAVE THE CHILDREN
,HUMANE SOCIETY,
ORG. FIGHTING FACTORY FARMING,
AND MULTIPLE OTHERS,
SENATOR DIANE FEINSTEIN AND
SENATOR BARBARA BOXER
,
TO ALL MY FRIENDS & LOVED ONES
AND ALL GOOD PEOPLE OF EARTH.
THANK YOU. I WISH YOU A BLESSED YEAR AHEAD.



JINGLE BELL CHRISTMAS


JINGLE, JINGLE BELL
IN THE SILENT NIGHT,
WITH THE MUSIC SWELL

-THAT'S WHITE CHRISTMAS SIGHT
SANTA IS AWAKE,
RUDOLF AT THE SLEIGHT.
CHRISTMAS PREPARATION
-THAT'S SANTA VOCATION.
CHRISTMAS POSTCARDS SENT,

NOW FAMILY GATHER
FROM THE DISTANT LAND.


JESUS IS THE REASON,
FOR HOLIDAYS SEASON.
CHRISTMAS SANTA
FUN FOR KIDS,
BUT REMEMBER 'JESUS' TEACH.

JINGLE, JINGLE BELL,
WORLD IS AT PEACE.
FOR ONE NIGHT ALL WELL
WITH THE CHRISTMAS KISS.
GOODWILL OF THE JINGLE BELL
ECHO TROUGH THE YEAR.
JINGLE, JINGLE BELL,
LIFE IS GOOD, ALL IS WELL.
e.d. lorens
edlorens.blogspot.com
CHRISTMAS TIME !!!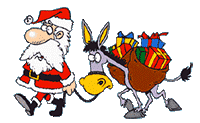 THANK YOU.
E.D. LORENS
edlorens.blogspot.com
ED LORENS YOUTUBE
Reference
All Christmas animation are from the very wonderful blog (free)
http://www.fg-a.com/christmas2.htm
Free Christmas Animations
818 × 545
Search by image
YouTube:
Halerman444
https://www.youtube.com/watch?v=jZ-e3_31sdM