a
My niece Julia and my nephew William
b

SEASON'S GREETINGS!
SEASON HOLLY!
SEASON JOLLY!
No 1
HEAVENLY SKIES
WITH TWINKLY STARS
SING ALONG
THE
CHRISTMAS
SONG!
THIS IS TIME
OF JOY AND PEACE!
ON THAT DAY,
THE WARS CEASE!
CHRISTMAS SEASON
IS THE PLACE
TO RENEW
THE CHRISTIAN'S FAITH!
(edlorens)
As you can see below, one of the reasons, why so many people love
holidays, it is because the holidays provide ample opportunity to
kiss and kiss. Even
Santa loves "bunny" kisses.
While Janusz (Santa)
is kissing his granddaughter (No 2),
his son Bartosz is using this
No 2
opportunity to give a kiss
to his wife Monica (No 3).
That's what holidays does
-provide an opportunity to
share and to show love.
No 3
No 4. The family dogs are not forgotten.
They got plenty of attention
and they like to pose for photos.
No 5 Julia and Saba
sharing Christmas...
exchanging gifts (?)


No 6. Young grandmother, also
wants to have a picture with her
granddaughter.


The holidays are the special occasions for families and friends to spend time together.
It's more than just time off work, sharing the meal and exchanging gifts. It is the
celebration of family and
friends... of life...
of goodwill. Time of
strengthening
, mending the relationships and reconnecting.
Since Jesus Christ was born sometime in the autumn, when shepherds were still in the field
it is a common knowledge
that tradition of Christmas and
the celebration is observed by Christian only by agreement, without the support of the corresponding biblical instructions or facts. However, there is no other holiday as popular or festive
and generating that much good will as Christmas.
No7 Julia
No 8 .Grandfather & Julia

c
They are kissing...again.
No 9.






Here I give you a short poem of mine, a little of kilter.
JINGLE BELL BUNNY
Jingle Bell Bunny,
the jug with the honey
No 10 That's Santa


-put under the tree.

The bees came after honey,
since it was free.
The honey droplets
lighted up the Christmas tree.
Honey Bee,
Honey Bee,
got the honey on the tree.
With the first star
on the sky
-Honey bee
took to fly.
Honey, honey
left by a bee,
shine on
Christmas tree.
Jingle Bell Bunny
with the jug
of honey,
soft and cuddly,
joyfully funny
-a message sent
for us all
-a Christmas call!
-Christmas message
tweet and tweet
...with the honey
spirit... sweet!
No 11 Jingle Bell Bunny
No 12. Another Jingle Bell Bunny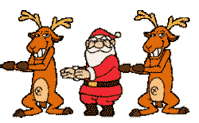 d
Related posts:
CHRISTMAS GREETINGS, Christmas songs, Jingle Bell Christmas Poem by e.d. Lorens
http://edlorens.blogspot.com/2014/12/christmas-greetings-christmas-songs.htm
CHRISTMAS: JESUS'S HAND poem by e.d. Lorens
http://edlorens.blogspot.com/2014/12/christmas-jesuss-hand-poem-by-ed-lorens.html
Reference:
http://www.fg-a.com/christmas2.htm
Free Christmas Animations www.aleteia.org818 × 545Search by image
Public Domain - all animation: a, b, c, d,
All other work is of my own and belongs to me.
At this time, I am placing Picture:
No 1, No 2, No 10, No 11, No 12, No 13 in Public Domain, to be used
for any purpose. Thank you. edlorens